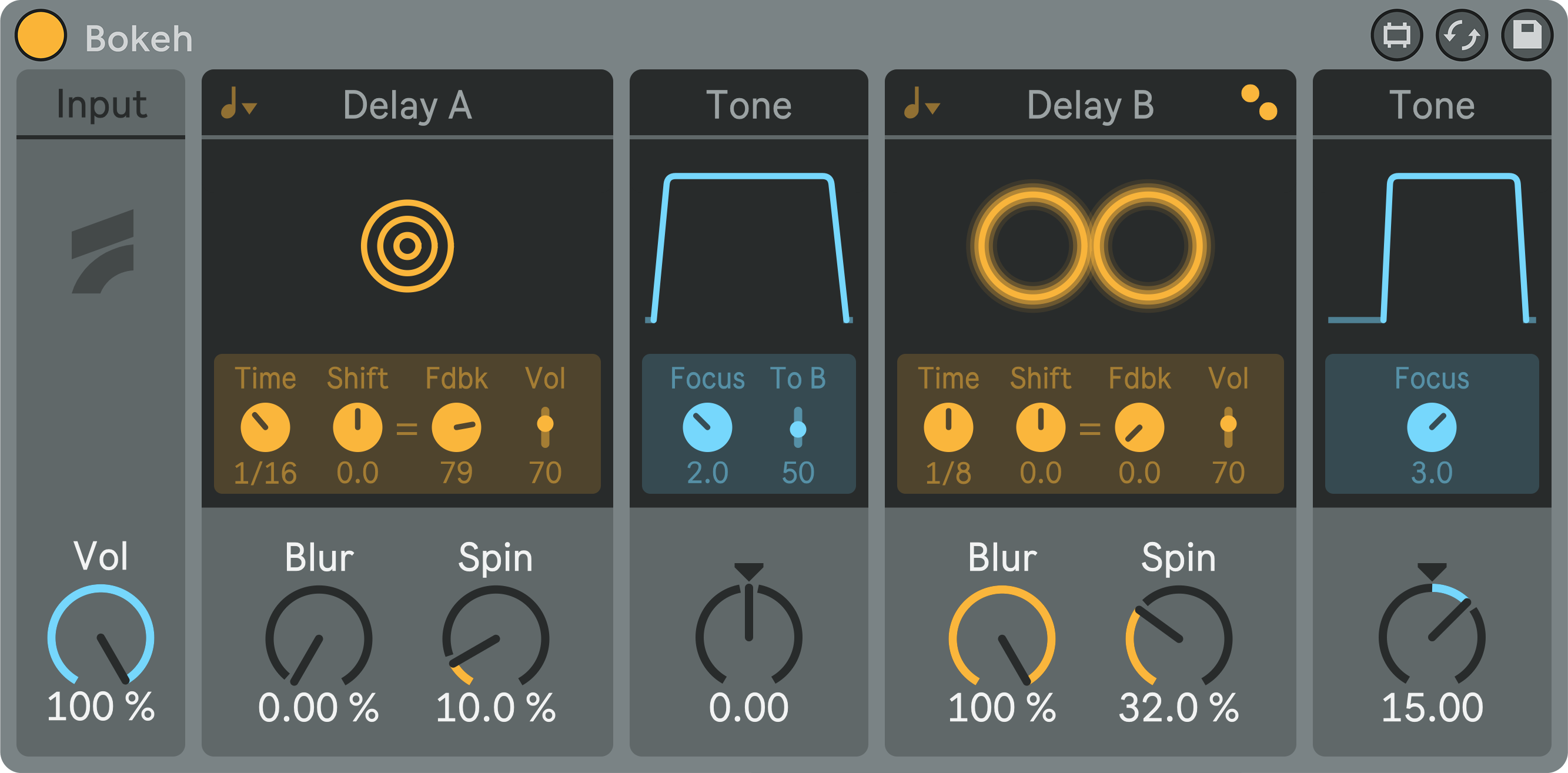 Bokeh is a Max for Live device translating the magic of blurred light into the world of sound.
*Only effect used is Bokeh
Positioned beautifully between precision and abstraction, Bokeh offers both crystal clear reflections as well as blissful diaphanous haze.

Taking inspiration from the phenomenon of unfocused points of light in a camera lens, Bokeh takes your sound and casts it back through a kinetic prism.
It has:

➋ × Diffusing Delays
➋ × Supersonic Pitch-shifters
➋ × Variable Slope Tone Filter

Signals sent through Bokeh's lens can be defocused, resulting in rich, dreamy blurring.
Bokeh's Spin parameter provides a distinct sense of movement, infusing sound with an additional layer of kinetic energy.
On top, Bokeh offers tonal possibilities through integrated pitch-shifting.
Bokeh is yours for €15

excl. VAT
Buy Bokeh
Bokeh is a Max for Live device and requires Ableton Live 10.1 with Suite (or Max for Live) to use
Buy Bundle
Includes Doublet, Bokeh and Roulette
10% of our proceeds go to a mutual aid fund or nonprofit - rotating every few months. If cost is a barrier for you, please write to us at
hi@fors.fm
See our currently supported fund on our
About
page.
---
Manual
Frequently Asked Questions
Does Bokeh run in a DAW other than Live?
Will there be a VST? Or iOS version?
No plans at the moment, but if we get enough funding it might be a possibility.
I have a feature request... And I need help!!